Type of Product:
Fluid Maintenance
|

Trans Pro
Quick and efficient ATF exchange
Dipstick AND Cooler Line modes
Extend transmission life
Increase transmission efficiency
Additional Benefits:
Dipstick service requires no adapters or tools
Comprehensive and modular adapters for most cooler lines
Service volume adjustment in 1 quart increments (6 to 32)
Adjust final fluid levels by .1 quart increments
Built in service counter provides revenue control
Going with the flow has never been this precise.
Help your customers improve their vehicle's mileage, transmission life, and powertrain efficiency with our ADVANTAGE fluid exchange systems. Choose from one of three models: TRANS PRO, TRANS PRO+, and MULTI-MODE. All models offer the dipstick approach to ATF service pioneered by AEC to complete a service on almost all vehicles with dipsticks in under 15 minutes. Trans Pro+ and MULTI-MODE models also offer adapters for cooler line applications. MULTI-MODE has an additional new fluid reservoir to select between different transmission fluids without cross contamination and reduce down time associated with changing fluids. AEC's innovative technology allows thorough fluid exchange with minimal dilution. Minimum dilution means maximum transmission fluid integrity. AEC Group Inc.'s patented fluid measurement process utilizes precise flow meters which allow technicians unmatched control over fluid volumes. Use the volume of fluid you want, no more, no less. Waste not, want not.
Four ways to make more money.
To give our customers the most flexibility, TRANS PRO, TRANS PRO+, and MULTI-MODE models offer an intuitive control panel with up to four (4) service modes as well as revenue control.
Service Modes:
Dipstick (TRANS PRO, TRANS PRO+ and MULTI-MODE)
Dipstick / Cooler line (TRANS PRO+ and MULTI-MODE)
Dipstick / Cooler line Combination (MULTI-MODE only)
Manual (drain pan or top-off ATF level)
Drain waste tank
Total count
Why Trans Pro from AEC?
Technicians find AEC Group Inc. equipment easy to use. Owners find them robust and intuitive. Located in Southern California, AEC Group Inc. proudly designs and builds all of its equipment in-house. Strong design and manufacturing oversight enables us to offer customers the highest level of engineering innovation, training, and after sale support backed by a limited 1 year warranty.
Features:
CAD designed
High quality components and construction
High flow rate
Easy to use
Comprehensive electronic interface
Bright LED display and touch panel
Two (2) accurate flow meters
Storage for adapters and tools
12 VDC
No adapters or tools required for dipstick mode service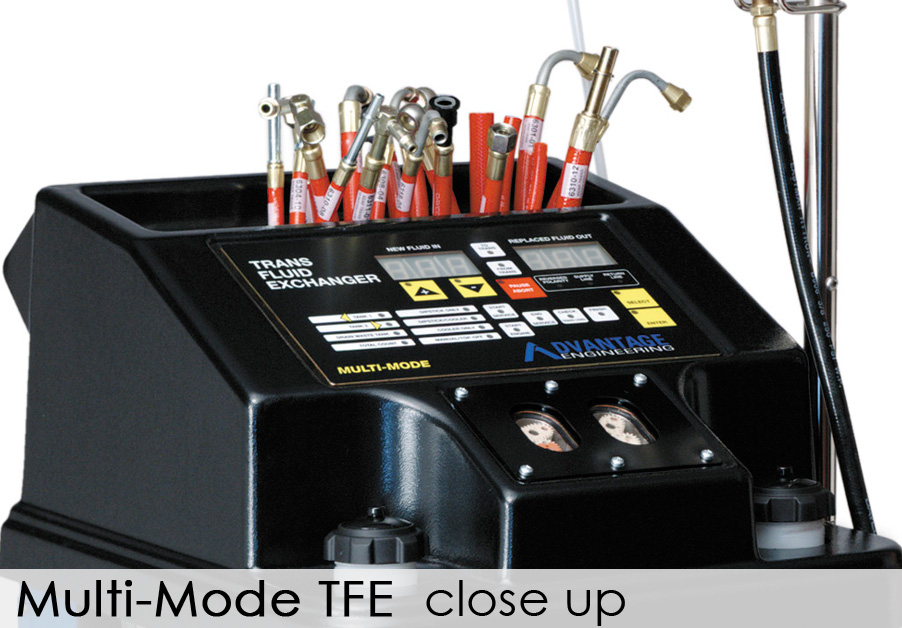 Specifications:
Five (5) service modes: - Dipstick - Dipstick/Cooler - Cooler - Manual Service - Drain Waste Tank
Two (2) new ATF reservoirs – each approx. 8 U.S. gallons with sight gauge
One (1) waste reservoir – approx. 16 U.S. gallons with sight gauge
Steel powder coated cabinet with built-in handle
User selectable service volume (6 - 32 quarts)
Adjust fluid level in .1 quart increments
Electronic control panel
Auto sensing flow valve
Total service counter for revenue control
Power supply: 12 VDC
8' external nylon reinforced Hytron hoses
9" rigid rear wheels
4" swivel caster with brakes
One (1) year limited warranty
Adapters for virtually all applications
Weight / Dimensions:
Weight (uncrated):
• 195 lbs. (89 kgs.) including adapters
Dimensions:
• 18" (46 cm) wide • 24" (61 cm) deep • 60" (152 cm) high
DOWNLOAD DOCUMENTS
Multi-Mode Highlight Sheet - PDF
Multi-Mode Operations Manual - PDF
TransPro Highlight Sheet - PDF
TransPro+ Highlight Sheet - PDF
Trans Pro / Trans Pro + Operations Manual - PDF
Adapters Transmission - Cooler Line l - PDF
Tags: Fluid Maintenance