TTC
motorcycle cam belt tension tester
Type of Product:
Diagnosis
|
Software:

TTC - ENGINEERED TO DUCATI SPECIFICATIONS
TTC is a device that verifies the correct engine timing belt tensioning, engineered according to Ducati specifications and specifically devised for Ducati bikes. Tensioning the timing belt correctly is a fundamental step in order to ensure reliability and safety: only with a measurement tool such as TTC a correct mounting is guaranteed, and an extremely professional service as well. The tool operates the measurement by using a very sensitive microphone that analyses the resonance frequency.
SMALL, PRACTICAL, FAST
It is entirely wireless and self-powered by rechargeable batteries (battery charger supplied as standard). It requires no additional tools as it displays the test results directly on its graphic display, and emits a beep once the measurement is complete. It's light and small-dimensioned and combines high technology with exclusive handiness and comfort, enabling the mechanic workshop to carry out a correct and professional belt tensioning in a few seconds.
TEXA customer services
TEXA has always supported its tools with a wide range of services. These services keep TEXA tools up to date with the latest innovations in automotive technology, provide practical troubleshooting assistance and guarantee mechanics all-round competence in their field.

The TEXPACK annual contract provides updates for all environments, while TEX@info provides access to the latest technical bulletins, the "SOLVED PROBLEMS" database powered by Google, the Call Centre and iSupport.

TEXA also runs a virtual store that can be accessed directly from TEXA software, in which users can request the activation of a large number of apps for the world of vehicle diagnostics and repair.

Click the link below to find out more about TEXA's services.
MICRO CONTROLLER
ARM 32 bit

DISPLAY
Backlit LCD

INTERNAL BATTERY
3.7 V 1000 ma/h li-io

RECHARGE
from USB port, max consumption 470 mA

RANGE
6 hours of continuous operation

RESOLUTION
3 Hz


ACCURACY
± 1,5 Hz

ENVIRONMENTAL
Operating temperature: - 10 °C ÷ 40 °C
Stocking temperatur: - 20 °C ÷ 60 °C
Temperature with battery under charge: 0 °C ÷ 45 °C
Storage and operation moisture:: 10 % ÷ 80 % senza condensa

DIMENSIONS
202,7x70,6x31,3 mm

WEIGHT
300 g.


Customer Service Info
DOWNLOAD DOCUMENTS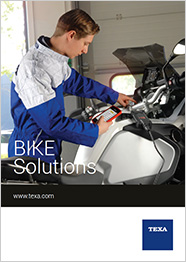 BIKE Solutions - IDC5
Tags: Diagnostics