NAVIGATOR TXB Evolution
the evolution of the BIKE and MARINE diagnosis
Type of Product:
Diagnosis
|
Software:

TXB Evolution - There wasn't much to improve. WE DID.
NAVIGATOR TXB Evolution is the new tool that TEXA designed and developed specifically for the BIKE and MARINE diagnosis environments. Its hardware features make it compatible with all the current protocols for both environments and its integrated 16-pin CPC connector allows the use of all the diagnostic cables. It is extremely powerful, equipped with a 16 MBit SRAM and an 8 GBit NAND FLASH storage memory; these are very important features as they allow the mechanic to manage the map files easily. The supported CAN standards include the CAN single wire management and an extra CAN controller for the diagnosis on more than one network.
PARAMETER RECORDING WHILE MOVING
NAVIGATOR TXB Evolution allows you to record the diagnostic session in "Dynamic Tests" mode, that is while the vehicle or boat is moving in order to identify specific problems that otherwise would not be detected in the workshop. The interface will recreate a complete outline of the situation in which the fault occurred, supplying important elements for the analysis of the problem in order to identify the causes of the fault and be able to repair the vehicle once it returns to the workshop.
TEXA customer services
TEXA has always supported its tools with a wide range of services. These services keep TEXA tools up to date with the latest innovations in automotive technology, provide practical troubleshooting assistance and guarantee mechanics all-round competence in their field.

The TEXPACK annual contract provides updates for all environments, while TEX@info provides access to the latest technical bulletins, the "SOLVED PROBLEMS" database powered by Google, the Call Centre and iSupport.

TEXA also runs a virtual store that can be accessed directly from TEXA software, in which users can request the activation of a large number of apps for the world of vehicle diagnostics and repair.

Click the link below to find out more about TEXA's services.
Processor:
CORTEX M3 STM32F103ZG 72 MHz, FLASH 1024 KBytes, SRAM 96 KBytes
SRAM memory:
16 MBits organized in 1024K x 16 bits
NAND Flash memory:
8 GBit on an 8-bit bus
Vehicle battery:
12VDC and 24VDC system management
External power supply:
8 ÷ 32 V
USB communication:
virtual RS232 via USB 2.0 Device
Wireless connection:
Bluetooth class1 (30 m)
Electronic switch:
2-way, 13 independent positions
Diagnostic connector:
16-pin CPC
Supported protocols:
Blink codes
K, L (with current protection 100 mA), ISO9141-2, ISO14230
CAN ISO11898-2 High Speed
Second ISO11898-2 CAN Channel
CAN ISO 11898-3 LOW Speed
CAN SAE J2411 Single Wire
SAE J1850 PWM
SAE J1850 VPW
SAE J1708
RS232
Visible warnings:
1 green/red LED, 1 blue LED
12 V consumption:
< 200 mA
24 V consumption:
< 100 mA
Operating temperature:
0 ÷ 50 °C
Storage temperature:
- 20 ÷ 60 °C
Operating moisture:
10% ÷ 80% without condensation
Regulations:
Directive: 1999/5/EC
Safety: EN 60950-1:2006 + A11:2009 + A1:2010 + A12:2011 + AC:2011 + A2:2013
Electromagnetic compatibility: EN 55022, EN 55024, EN 301 489-1
Radio systems: EN 301 489-17, EN 300 328-2
Weight:
215 g
Customer Service Info
DOWNLOAD DOCUMENTS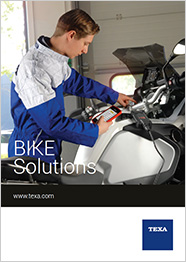 BIKE Solutions - IDC5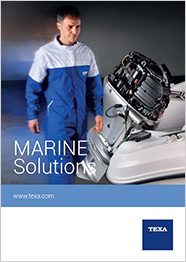 MARINE Solutions - IDC5
Tags: Diagnostics